God bless Garth Ennis.
I think I'm the only 33 year old female, that I know, who spent the morning reading his one-off "The Punisher: The Cell" while painting her nails purple-blue with glitter in an attempt to recover from a particularly craptacular hangover.
If you aren't reading "The Punisher", why aren't you? Go buy "The Cell" now. Go. By hitting the site, you've already inflated the sitecounter. I'm satisfied. I'll forgive you if you go. But only if you buy this book.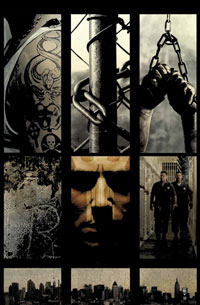 This story details Frank Castle turning himself in for the express purpose of getting prison access to the Mob guys who were responsible for gunning down his wife and children during the botched hit on Don Francesco Drago in Central Park. It is tense. It is moving. It is beautifully violent. It is Ennis at his best. Go buy this comic now.
Why Am I Hungover?
Because I drink.
Duh.
I've mentioned these fine folks before:
Dogfish Head Brewery
.
I was hung over this morning because I spent last night drinking this:
Immort Ale
.
From the site:
"Brewed with peat-smoked barley, this strong ale is brewed with organic juniper berry, vanilla, and maple syrup. It is then aged on oak and fermented with a blend of English & Belgian yeasts. 11% ABV 40 IBU "
And when I ran out I kept drinking, other, lesser beers. For my sins, I woke up with a hangover that was truly an artistic work of Satan.
As far as Immort Ale goes, you really need to like Barley Wine to enjoy this. A number of folks who I handed this to, at the party we happened to be at, felt that it was on the sweet side. One individual described it this way : "It could be an ice cream topping, but, smokey." Of course, Mr. Scoop has gotten this guy to
almost
(almost!) go stair diving at least once. It was not as cool as:
.
I can't make the link work, but if you go
here
and scroll down to "Surfing Stairs" you'll understand what I mean.
Mr. Scoop has the power to make other people do that. That's all I'm saying.
But, back to the beer, I liked it. It was malty as all hell, but the oak and the maple were damn addictive. This is not a beer you chill heavily. This is a beer you savor, as though it is a scotch - and save for a special occasion, like having to interact with co-workers outside of work.
Christ, I'm so looking forward to Monday.
Other Tales
I've seen "Revenge Of The Sith". Never have I wanted it to be July and the debut of of the second season of "Battlestar Gallactica" more quickly. Goddamn you, George Lucas.